Get to know our Junior Graphic Designer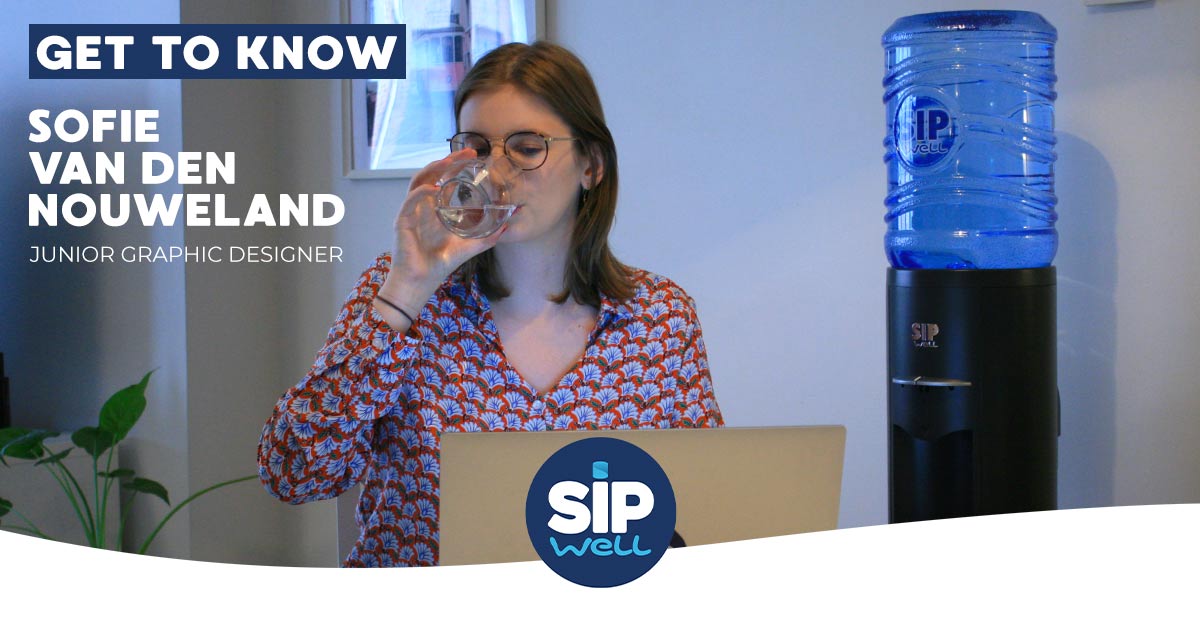 How did you first learn about SipWell?
During the internships that I've done, there was always a SipWell water cooler present. So I've always known SipWell existed, but didn't know much about it. When I graduated and started looking for my first job, I came across a vacancy as a graphic designer here, at SipWell. I immediately recognized the brand and applied!
What led you to SipWell and how long have you worked here?
SipWell came across my path a few months after I graduated. I applied for the job in October of 2019 and I'm so happy I got the opportunity to work here!
What are 3 words to describe SipWell?
Healthy
Belgian
Convenience
What do you like most about SipWell?
Even after working here for a while now, I still think it's amazing that we pump up our water from right below our offices! The whole bottling process happens in-house, plus we have the most modern installation of Europe.
I also love that we do our best to contribute to a better climate and environment. I think it's really important for our generation to think about climate change, and make changes in our daily lives where we can. SipWell can be a way to help you. We are CO2-Neutral since May 2020, a water cooler reduces plastic waste because we recycle everything: from cooler, to bottle caps and the bottles themselves. And we're still innovating and trying new things to lessen our impact on the planet.
What is your life's dream?
I would like to see more of the world and visit interesting and fun places! Eventually maybe settle down in an interesting town or city with lots of pets!
What do you do in your free time?
I've been playing volleyball for over 10 years. I like to hang out with friends, and watch movies and series. I recently took a diving lesson, but had to stop because of COVID-19, but when everything is back to normal I would like to resume these lessons! I also love playing board games and I value some family time.
Top three life highlights?
My trip to New York! I loved the ambiance of the bustling city. There was so much to see, so many interesting places and buildings. I would really like to go back someday to discover what I have not yet discovered.
Finding my first job at SipWell and having a team that supports me and each other.
Adopting our dog, Kamiel. A wonderful and enthusiastic addition to the family!
Finally, tell us something about yourself that would surprise us.
I'm a die-hard Harry Potter fan and I have a tattoo on my ankle.
How did a SipWell water cooler at home impact your daily life?
I love having a SipWell water cooler at home! It's a reminder to drink more water. I didn't drink enough water before I had my own cooler at home. But since it's here I drink a lot more water 😊. When I drink water, I like it very cold and that's no problem for the SipWell water cooler!
Good luck in the future!